George Nelson & Associates

Eyeshade floor lamp

Koch & Lowy

USA, c. 1975

chrome-plated and enameled steel, chrome-plated brass, aluminum, enameled aluminum

44" high in photo, will adjust lower, but not much higher. Arm 17" long.

Condition is good. Paint loss on black grill as seen is 1/2" at it's widest, paint loss on white interior from bulb heat as shown, scratch on base and specks of paint loss. Not bad at all for this rare and classic mid century modern floor lamp.

$1,500
Bertoia for Knoll Fiberglass Stool
Bertoia for Knoll Blue fiberglass stool. This stool came from an industrial setting so the seat has substantial wear, it is still a pretty blue though. The stool is solid.

SOLD
Modern
Stylish chrome mid-century modern "EyeBall" light fixture with 5 balls! The light is 3 feet long and has a pull chain in the center with a three-way switch.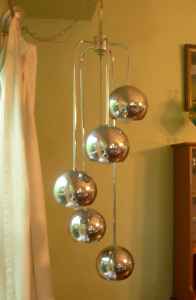 SOLD
Steelcase Seating Unit
Steelcase (circa 1983?) table and chair seating unit. 48" wide and 24" deep. Very cool mid century modern/eames era style. Very good condition. Blue vinyl, no tears. Table nice. Base is steel, rock solid build quality.
$75
SOLD

Crying For You
Cry for Duncan Phyfe - not for Danish Modern. Met with clean-lined indifference and form-before-function shrugs just a few years ago. The antique world has been turned upside down by Mid Century Modern design.

For your consideration is a giant Danish Modern tear of joy. Circa 1962. A beautiful pendant ceiling lamp. 6" wide at the widest, and 23" from ceiling to shade.


$75

Available for local pickup in Portland, Oregon only.